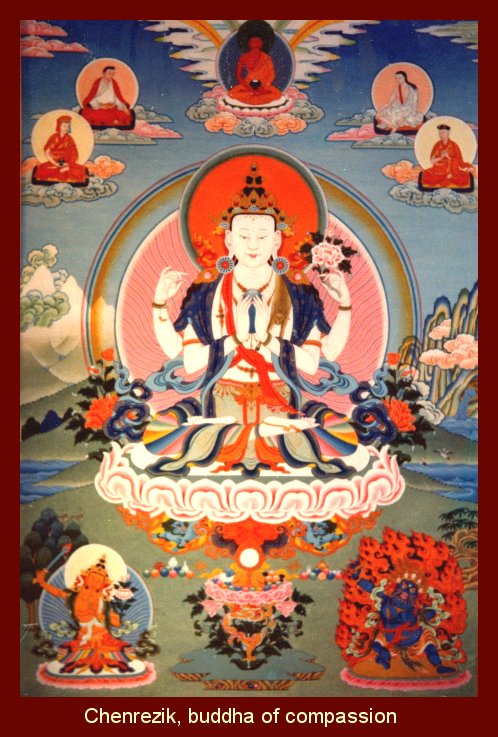 Saturdays 14th, 21st and 28th May,
11th, 18th & 25th June & 9th July, 2022.
This is a series of 7 teachings for both those wishing to learn this most famous Tibetan practice of compassion and for those already practising who would like to make their sessions more meaningful and 'alive'.
According to traditional requirements, participants will need to have taken Refuge and, ideally, to have received a Chenrezik empowerment (4-arm or 1, 000-arm).
I suggest you watch, prior to attending these teachings, the 2016 videos of HH the Gyalwa Karmapa giving Chenrezik transmission
If you are in doubt about the suitability of these teachings for you, please contact me on the email address below.
We will be learning the sadhana of 4-armed Chenrezik given to us by the great Tibetan master Thangtong Gyalpo, explained according to the commentary by the 15th Gyalwa Karmapa.
Session 1, 14th May: The purpose of Vajrayana, with its visualisations and mantra practice. Who was the author of the 4-armed Chenrezik practice Tangtong Gyalpo? And the 15th Gyalwang Karmapa who gave the instructions on how to practice it? An introduction to the structure of the practice and the way in which we shall learn it.
Session Two, 21st May: Practising the Refuge and Bodhicitta sections.
Session Three, 28th May: Detailed visualisation of seed syllable, its meaning and the logic of samayasattva and jnanasattva.
Session Four, 11th June: Devotion and openness
Session Five, 18th June: Reciting the mantra and what to visualise
Session Six, 25th June: more on the mantra and then the final dissolution and voidness practice.
Session Seven, 9th June : full guided practice
ALL TEACHINGS 09.15 for 09.30 – 11.00 a.m. LONDON time
These teachings are open to all (see above) and are free of charge.
To register or make further enquiries: kencourses@protonmail.com
You may, if you wish, offer dana through Paypal to ken@calm-and-clear.eu